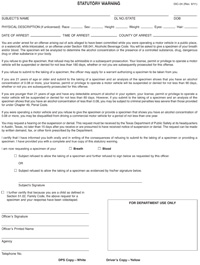 After being arrested for DWI, a police officer will read the citizen accused their "Statutory Warnings" before asking them to submit to a breath test.
This form, the DIC-24, goes through the warnings to a person discussing potential license suspension for refusal, failure, and hearing requests. It was originally created as a "dummy proof" form so that officers weren't illegally coercing people into giving breath or blood samples.
The DIC-24 is often criticized by DWI attorneys as overly complicated, and in some cases, flat out deceiving.