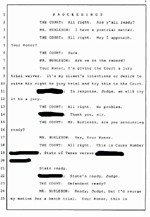 Yesterday, our firm found ourselves in an odd position. A case of ours was set for trial, and we were ready to go. (That's not the odd part). The odd part is that although we were willing to waive the jury and allow the judge to make the determination of guilt, the state wouldn't allow it.
In general, the only reason the state would oppose this is because they think they would have a better chance of a guilty verdict with a jury rather than the judge. Conversely, a defense attorney would do this if they think they have a better (or equal) chance with the judge. In this case, we knew the facts of the case, and were very confident of a not guilty no matter who was looking at it.
So we attempted to save our citizens some time, and let the judge decide. But as has recently been pointed out by the front page article in the Dallas Morning News (just one day earlier), the State has a right to a jury trial.