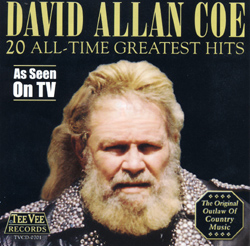 Looks like Collin County doesn't like David Allan Coe's music as much as I do. I just saw him play at Trees in Dallas not to long ago. Might be his last visit to this area in a while. Here's the article from the Detroit News.
Country star to IRS: 'Shove It'
Outlaw country star David Allan Coe might not want to "Take This Job and Shove It." He could use the money to pay off a $1.6 million tax bill, according to public records.
This isn't Coe's first rodeo with debt. The crooner, who penned the tune made famous by Johnny Paycheck, filed Chapter 13 bankruptcy in 2005.
The debt adds another rough chapter to a colorful life. Coe claims he spent time at the Ohio Prison prominently featured in "The Shawshank Redemption."
What's owed:
The IRS filed a $1,640,853 lien against him Jan. 18 with the Collin County (Texas) Clerk. According to the lien, which you can see here, he owes income taxes from 2004, 2007 and 2009.
His side:
Coe's representative did not return an e-mail seeking comment.